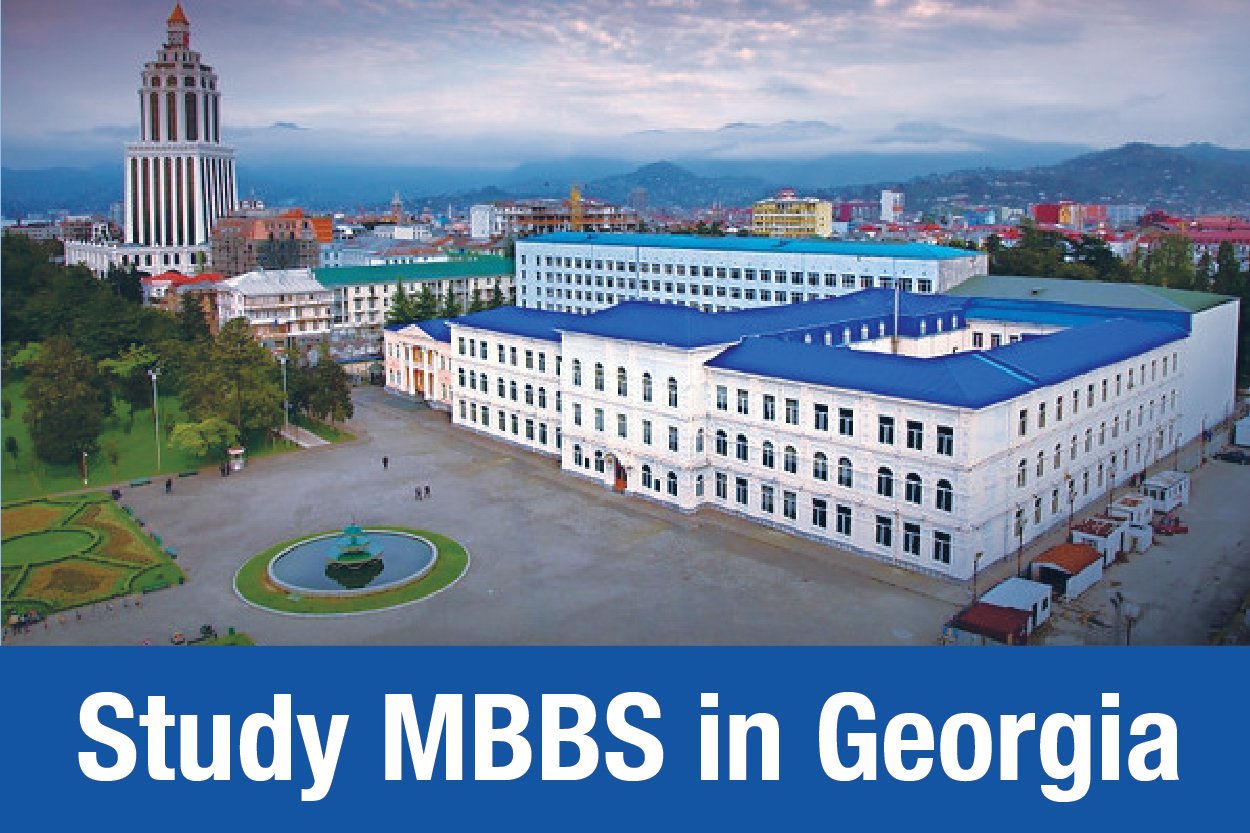 Medical Education / MBBS in Georgia Key Features
| | |
| --- | --- |
| Intake | October |
| Score Required in 10+2 | 50% in PCB |
| NEET Requirement | YES |
| Fees Structure | 5000 – 8000 USD Per Year |
| Hostel | 200 to 260 USD Per Month |
| Duration | 6 Years |
| Medium of Instruction | English |
| Top Medical University | Ivane Javakhishvili Tbilisi State University |
| Recognition | MCI and WHO approved |
Universities for Studying MBBS in Georgia for Indian Students
Ivane Javakhishvili Tbilisi State University, TBILISI.
Akaki Tsereteli State University, AKAKI.
Batumi Shota Rustaveli State University, BATUMI,
David Tvildiani Medical University, TBILISI
European University
New Vision Medical University, Georgia
David Agmashenebeli University Of Georgia
Georgian National University, Georgia
Caucasus International University
Tbilisi Medical Academy
Tbilisi Open Teaching University
Tbilisi State Medical University
University of Georgia
East European University
Georgian American University
What are the Courses Offered by Georgian Medical Universities?
Here are the courses that are offered by Georgian MBBS Medical Universities. It will help you to achieve your dreams of becoming a doctor.
| S.No. | Courses | Duration (in years) |
| --- | --- | --- |
| 1 | MBBS/ MD | 6 |
| 2 | Dentistry | 5 |
| 3 | Pharmacy | 4 |
| 4 | Nursing | 4 |
What is the Duration of Studying MBBS in Georgia?
The duration of studying MBBS from Georgia is of 6 years in total. Here are the points which will help for your understanding before taking admission in MBBS Universities in Georgia.
5 years of academic studies.
1 year of internship in a hospital that is affiliated to the university you are studying in.
What are the Eligibility Criteria for MBBS in Georgia?
Below are the eligibility criteria for studying MBBS Georgia:
You should be 17+ years of age on or before 31stDecember of the year you are taking admission in.
Completion of 10+2 grade with Science
You must have Physics, Chemistry, Biology, and English as subjects in 10+2 grade
You must secure at least 50% in your 10+2 grade examinations
You must qualify NEET exam to apply for MBBS studies
The above section contains all the important details of eligibility criteria that you must fulfil to study MBBS course in Georgia.
What are the Required Documents For MBBS in Georgia ?
The following are the required documents for MBBS Georgia. The applicants have to show these documents to study MBBS.
Scanned mark sheet copies of 10th and 12th standard
Birth Certificate in English
A valid passport
Migration Certificate
Bank statement of your guardian to confirm that you can afford your tuition fees and living cost
Medical certificate that has complete reports on HIV and vaccination
Passport size photos
A filled up application form
Admission invitation letter from the university you have applied for admission
Scanned copies of NEET scorecard
Air tickets
Admission Process for MBBS in Georgia
The admission process of the Medical Study in Georgia is very easy and simple to do. The whole process is quite straightforward and simple to carry out.
Step 1: Fill up the online application form with correct details.
Step 2: After the filling of the application form, you will get an offer letter from the Georgian Medical Universities.
Step 3: Once you get the offer letter, you have to pay the course fee.
Step 4: Once you are done with the payment of the course, you can start the visa process.
Step 5: Get the student Visa card.
Step 6: It is time to catch a flight to Georgia and make your dream come true!
Why Should You Opt for Study MBBS in Georgia?
There are already over 5000 students studying MBBS/MD in Georgia. Here some of the reasons why should you opt for Georgia.
You can enjoy a relaxed and positive life within a budget in Georgia.
Also, the crime rates compared to other countries are very less here because it is a democratic republic.
This very fact provides a safe and secure environment for all the students studying here.
According to a survey, Georgia is counted as one of the top 10 safest countries in the world to live in.
The place is extremely economical as well as it is almost 2.5 times cheaper than in other countries.
In short, Georgia is the most ideal place for students to pursue their career in MBBS Georgia Universities.
Below we have jotted down some of the most eminent benefits of studying MBBS from Georgia-
MBBS Universities in Georgia Charge lesser fees
There is no requirement of IELTS/TOEFL
Absolute English Medium
Offers 100% Visa Approval Rate
Extremely cordial environment for the students
A cut-price place to live including monthly expenses
Almost nil crime rates in Georgia
The medical colleges in Georgia are WHO/MCI approved
The simple and less time-consuming admission process of MBBS from Georgia.
There are different lodging facilities for both the genders
You can pay the fees in two instalments if you want
The students receive the best salary packages in Georgian Medical Universities
There is no tuition fee when it comes to the course of the last year.
MBBS in Georgia Fee Structure : 2023-24
The following will throw some light on the affordable costs that aspirants will incur as a part of MBBS in Georgia's fees structure.
| Name of the Universities | Tuition Fees/Year | Hostel Approx Cost of living | Annual Fees per Year (Food + Education) |
| --- | --- | --- | --- |
| Georgian National University (SEU) | Rs. 3,85,000 | Rs. 1,65,000 | Rs. 5,50,000 |
| Tbilisi State Medical University | Rs. 5,94,000 | Rs. 1,65,000 | Rs. 6,34,000 |
| David Tvildiani Medical University | Rs. 7,34,000 | Rs. 1,65,000 | Rs. 7,74,000 |
| Ivane Javakhishvili Tbilisi State University | Rs. 2,80,000 | Rs. 1,65,000 | Rs. 3,20,000 |
| New Vision University | Rs. 4,90,000 | Rs. 1,65,000 | Rs. 6,90,000 |
| Batumi Shota Rustaveli State University | Rs. 2,80,000 | Rs. 2,10,000 | Rs. 6,30,000 |
| Akaki Tsereteli State University | Rs. 4,30,000 | Rs. 1,65,000 | Rs. 4,70,000 |
| Name of the Universities | Tuition Fees/Year | Hostel Fees/Year | Annual Fees/Year |
| --- | --- | --- | --- |
| Tbilisi State Medical University | Rs. 5,94,000 | Rs. 40,000 | Rs. 6,34,000 |
| Geomedi Medical University | Rs. 2,40,000 | Rs. 40,000 | Rs. 2,80,000 |
| East European University | Rs. 3,50,000 | Rs. 1,75,000 | Rs. 5,25,000 |
Disclaimer: Study Europe Consultants cautiously affirm that the given amount of Tuition Fees is not volatile and subject to change without any prior intimation to the students. Also, the amount is in USD, not in Indian Rupees. To know the exact tuition fees, Hostel Fees, Living Cost and Exchange Value of USD in Indian Rupees, please contact our experts at Study Europe for MBBS Georgia.